Max H. Goodloe, Sr. (1921-1997)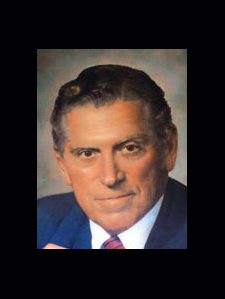 Advancing the Profession/Industry Influence
Max Goodloe founded General Medical Corp., the second-largest distributor behind American Hospital Supply. He pioneered the concept of a national distribution company with a local sales and warehousing presence so customers anywhere in the nation could rely on either same-day emergency or next-day delivery service.
Goodloe built his company through a string of acquisitions and took his company public on the New York Stock Exchange in 1969. At its peak, General Medical was the largest physician supplier in the nation and the second-largest hospital supplier behind American Hospital Supply, reaching $400 million in sales, employing 1,500 people with 80 profit centers, including manufacturing companies. Goodloe hired and mentored Pat Kelly, who would found Physician Sales & Service, which became the nation's No. 1 physician supplier, as well as Roy Childrey, who co-founded StarLine Dealers Association.
Early on in his career, Goodloe would pioneer innovative marketing and merchandising techniques for doctors, placing product boxes, as well as empty, but closed, cases on the shelves to showcase product access and reliability. Goodloe inked one of the first distribution contracts with what would become Humana, as well as the first contract with Hospital Corporation of America. Goodloe pursued all three major market segments – hospitals, nursing homes and doctors offices – when the competition focused primarily on two, leaving doctors offices out.
Work Experience
Max Goodloe founded General Medical Corp. in 1960 with five sales reps. Two decades later he sold the company to Whittaker Corp. with more than 500 sales reps.
Goodloe sold his company because it "outgrew" his ability to expand because he was "slow to computerize, hard-pressed to find first-class talent to run the far-flung branches and frustrated in his attempts to establish a strong presence on the West Coast," according to a 2005 profile in Repertoire Magazine.
After graduating high school Goodloe joined Massey Surgical Supply Co. as a salesman. When World War II started, Goodloe reported for basic training and volunteered to fly B-25 bombers in Europe. After the war, Goodloe rejoined Massey and sold medical/surgical supplies in Alabama, helping Massey expand its business.
With boyhood friend and Massey colleague Jack Enoch, Goodloe co-founded Richmond Surgical Supply in 1950 to reach the hospitals in the city and the medical college and to not compete with Massey. However, Richmond Surgical's toughest competitor became Powers & Anderson (now Owens & Minor).
Sharing one car and one doctor's bag, Goodloe and Enoch alternated their selling strategies daily. One would go on the road while the other remained in the store. The next day they would switch.
"To make the [Richmond Surgical] store look more impressive to visiting doctors, they not only put boxes of products on the shelves, but also they put the empty (but closed) cases," according to Repertoire. This was an innovative approach to marketing and merchandising.
Goodloe and Enoch opened up branches in other cities, each one sporting different names, such as Roanoke Surgical, Seaport Surgical and Virginia Surgical.
Goodloe and Enoch then expanded what they called General Medical to Tennessee. Goodloe bought out Enoch's share of the business in 1965.
Goodloe took General Medical public on the over-the-counter stock exchange in 1967, followed by the NYSE in 1969.
Goodloe inked one of the first distribution contracts with a nursing home chain called Extendicare (which would become Humana), as well as the first contract with Hospital Corporation of America, which was co-founded by his former employer Jack Massey who had left the distribution business. Incidentally, Massey also invested in a fried chicken venture with Col. Harlan Sanders.
By 1972, General Medical had acquired a string of local distributors and manufacturing companies, operating 37 branches nationwide.
After selling General Medical in 1980, Goodloe, along with three others, formed Healthcare Venture Corp., a company that invested in healthcare-related firms.
Goodloe died in 1997.
Work Performance
Goodloe grew his company largely by acquisition and individual sales efforts.
For a time, his philosophy of a decentralized network of sales offices where each branch operated somewhat independently, helped the company expand.
While competitors reached out to institutions for sales, Goodloe also targeted doctors, spearheading what would eventually become a lucrative non-acute care segment of the industry.
Professional Activities
Max Goodloe earned the Outstanding Service/Distinguished Service Award from the Virginia Hospital & Healthcare Association in 1974.
Noted grandson Berkeley Goodloe, "Max felt very strongly about honesty and integrity, and these were values he instilled in me from a very young age. I can still hear his gravelly Tennessee accent telling me, 'Honesty is always the best policy.' He was also known for his philanthropy and donating to organizations, which gave youth the opportunities he never had. Examples of this were his contributions to the Richmond Children''s Museum and his endowment with the University of Richmond. He was an inspiration to me and everyone who knew him: A role-model, leader and genius."