Media
Previous Press Releases
Jim Dickow (1943 - 2021), facility planner, mentor and management engineer, remembered by Hall of Fame for Healthcare Supply Chain Leadership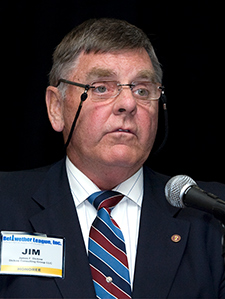 Jim Dickow (1943-2021), Bellwether Class of 2013
SCHAUMBURG, IL (April 20, 2021) – Jim Dickow was a stickler for detail and order.
Given that Dickow began his career in the late 1960s as an engineer at McDonnell-Douglas Aircraft Inc., working to develop and simulate astronaut link-ups with an orbiting space station, his focus and emphasis on extensive and thorough analysis made sense. Those skills also certainly came in handy once he left the frontier of outer space for the confines of supply chain space in the healthcare industry in the early 1970s.
After spending more than a decade at Will Ross Inc.-Gentec Healthcare he dedicated the remainder of his career – more than 35 years – to management consulting via a variety of recognizable brands, including Kowalski-Dickow Associates (KDA), Amerinet, ServiceMaster, ARAMARK Healthcare and Lerch Bates. He concluded his four-decade run under his eponymous shingle, Dickow Consulting Group. During his final phase, Dickow collaborated on some projects with his KDA co-founder, Jamie Kowalski.
Dickow, 78, passed away peacefully in the hospital in Milwaukee on Sunday morning, April 18, after a four-month battle with cancer, Bellwether League Foundation learned.
James F. Dickow served as a Founding Board member of Bellwether League Inc., the forerunner to Bellwether League Foundation. In those early years prior to his induction into the Bellwether Class of 2013, he functioned as the designated but unofficial parliamentarian of the Board, a skill he developed while a member of his fraternity at Purdue University. He made sure his fellow Board members followed Roberts Rules of Order and managed their frequent meetings with congressional aplomb.
Jamie Kowalski, Bellwether League Foundation Co-Founder and Board Secretary, represented one-half of the prominent hyphenated consulting firm he started with Dickow in 1984, Kowalski-Dickow Associates, and fondly remembered his long-time business partner.
"Jim was a smart, talented guy who was a mentor to many – hundreds of clients, dozens of staff – including me," Kowalski recalled. "I'll always be grateful for that. He opened the door for me to begin my career path and became my partner to help me with whatever success I – we – had. And he was a friend for over 40 years. God bless him."
Kowalski followed Dickow into the Hall of Fame for Healthcare Supply Chain Leadership four years later.
Deborah Templeton, R.Ph., Chairman, Bellwether League Foundation, saluted Dickow's contributions to Bellwether League and the industry at large.
"As Chairman of the Bellwether League Foundation, I am proud to be continuing the foundational work of Jim," Templeton said. "Jim impacted many in his work in supply chain.  Through his leadership, dedicated to the formation of the Bellwether League, his legacy will continue. Enabled by his contributions, foresight and support, we continue the work today, honoring Jim and others that have given much to the profession.
Dickow left McDonnell-Douglas in 1970 for Drake Sheahan/Stewart Dougal Inc., for three years to concentrate on logistics and transportation issues. From there he served for the next decade as Vice President of Operations at healthcare product distributor Will Ross Inc.-Gentec Healthcare, a company that later would be split with Will Ross being acquired by Owens & Minor from G.D. Searle and Gentec by McKesson.
With the emergence of managed care and reimbursement by diagnosis-related groups (DRGs) in 1983, Dickow decided to embark on a venture with someone he had hired at Will Ross. Kowalski had worked on Dickow's team before taking a position in Marketing as Director of Hospital Systems. He then rejoined the provider supply chain segment at Froedtert Memorial Lutheran Hospital for the next three years. In 1981, he moved on to start the initial version of his consulting firm, Kowalski Associates.
Dickow would join with Kowalski two years later and work with his partner to take the newly minted Kowalski-Dickow Associates international as a healthcare-specialized supply chain management consulting firm. The duo dedicated the next two decades building the brand before selling the company to Amerinet Inc., which then sold it to ServiceMaster and finally to ARAMARK. During that time, KDA worked with more than 1,700 hospital clients and helped those clients generate more than $1 billion in cumulative savings.
Dickow left ARAMARK Healthcare as Executive Vice President in early 2004 to join Lerch Bates Inc., a consulting firm specializing in the design and management of buildings' supply chain operating and facility systems, where he would apply his expertise in management engineering.
After more than five years at Lerch Bates, Dickow decided the time was ripe to hang out his own shingle, launching Dickow Consulting Group in mid-2010, where he spent the remainder of his career.
Throughout his career that spanned non-healthcare and healthcare venues, Dickow used the same quantitative analysis tools to demonstrate and prove to executives, managers, clinicians and physicians how new supply chain models and physical configurations would work within building, equipment and facility planning projects and operations improvement engagements, and how they would contribute to an organization's bottom and top lines. He applied qualitative and quantitative metrics to all of his projects and taught the many he mentored over the years how to do the same on their own.
During his induction into the Hall of Fame in 2013, Dickow said he would like to be remembered this way:
"Assisting industry leaders recognize the importance and impact of Supply Chain Management to the performance of their organizations – financial, patient care, service, employee satisfaction, etc. Being a mentor/advisor to and collaborator with key leaders of the healthcare industry is a legacy and treasure that I cherish," he said.
Even back then he viewed healthcare and healthcare supply chain management as being "on the verge of becoming an even more important and relevant part of our society," he said. "Improvements in functionality and economics will provide significant personal challenges and rewards in the future. The opportunity and horizon are limitless, providing significant personal satisfaction and reward."
Throughout his career Dickow volunteered for a variety of organizations, including his alma mater Purdue University and his one social and two honorary fraternities, Phi Kappa Theta, Phi Eta Sigma and Pi Tau Sigma, respectively. He was an active member of several supply chain management professional groups, including AHRMM, and served as an expert editorial resource for such industry publications as Healthcare Purchasing News.
Dickow was preceded in death by his wife Yvonne who died in 2006 after 39 years of marriage. He is survived by his son Michael J. Dickow and daughter Christine Y. (Dickow) Bertolotto.  
The Dickow family scheduled visitation at the Schmidt & Bartelt Funeral Home in Mequon, WI, on Thursday, April 22, from 4-7 p.m. Central. Funeral Mass is scheduled for Friday, April 23, at Lumen Christi Parish, in Mequon, WI.
About Bellwether League Foundation
Bellwether League Foundation comprises two operating divisions that educate, endow and evaluate professionals in healthcare supply chain performance excellence: The Hall of Fame for Healthcare Supply Chain Leadership and Bellwether Philanthropy.
The Hall of Fame for Healthcare Supply Chain Leadership evaluates and validates professionals submitted for consideration in its three award programs: Bellwether Honorees, Future Famers and Ammer Honorees. The Hall of Fame also offers educational content via the Healthcare Supply Chain Leadership Forum and its "Leaders & Luminaries" multimedia brand of live, online and printed content.
The Board selects deceased, retired and currently active professionals with a minimum of 25 years of exemplary service and leadership performance in supply chain operations that meet its criteria to be recognized publicly as Bellwether Class Honorees. Those honored demonstrate their qualifications by advancing the profession through work experience and performance and active participation in professional organizations and their communities.
Honorees include professionals from hospitals and other healthcare providers, manufacturers and distributors of healthcare products and services, group purchasing organizations, consulting firms, educational institutions and media outlets.
Future Famers represent supply chain professionals early in their healthcare careers who do not yet qualify for Bellwether consideration but have contributed meaningfully to the healthcare supply chain profession.
Honorees who receive the "Dean S. Ammer Award for Healthcare Supply Chain Performance Excellence" represent noteworthy executives and professionals in the middle of their careers who, through their innovative leadership and influential project management experience, best exemplify the practice and spirit of healthcare supply chain performance excellence.
To date, The Hall of Fame for Healthcare Supply Chain Leadership has honored 120 innovators, leaders and pioneers in healthcare supply chain management in five distinct categories: Education & Media, Supply Chain Management, Group Purchasing, Supplier and Consulting Services. Bellwether League also has recognized 30 Future Famers, and one Ammer Honoree.
Bellwether Philanthropy offers scholarships to college-bound high school students who plan to study supply chain curricula, current collegiate students who major in supply chain-related careers and professionals who pursue continuing education through associations and universities.
Launched in late July 2007 by a group of influential veterans in the healthcare supply chain industry, Bellwether League Foundation began as a 501(c)(6) not-for-profit corporation that identifies and honors men and women who have demonstrated significant leadership in, influence on and contributions to the healthcare supply chain. It upgraded to a 501(c)(3) nonprofit organization in January 2021.
Bellwether League Foundation currently is funded by six Founding and Platinum Sponsors – HealthTrust, Intalere, Owens & Minor, Premier, Vizient and Wingfoot Media – and a host of additional sponsors.
For more information on how to become a sustaining or corporate sponsor or to nominate Bellwether Honoree, Ammer Honoree and Future Famer candidates visit BellwetherLeague.org.