Media
Previous Press Releases
Save the date and don't be late: Bellwether League to induct 8 into Hall of Fame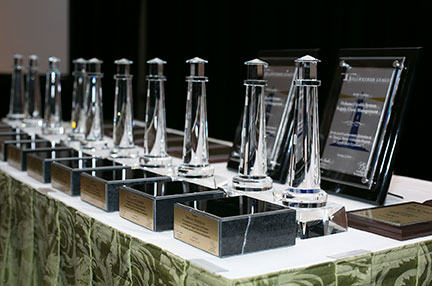 Eight leaders, innovators and pioneers will be inducted into Bellwether League's Hall of Fame for Healthcare Supply Chain Leadership next month.
Have you received your invitations and reserved your seats to attend and honor the group, too?
The Bellwether Class of 2019 includes the following notables with their most prominent career affiliations in parentheses behind their names:
Clara Barton (1821-1912) (American Red Cross)
Stanley J. Costello (1916-1976) (Presentation Health System/PACE)
George Y. Hersch (Norton Healthcare)
Capt. Terry R. Irgens, USN-Ret. (1947-2017) (Department of Defense, Defense Logistics Agency)
Carl P. Meyer (The Wetrich Group/McKesson/General Medical)
Vance B. Moore (Mercy/ROi)
Kevin O'Marah (SCM World/Gartner/AMR Research)
Larry P. Smith (BD/Dade Behring/DuPont)
Bellwether League also will recognize its Future Famers Class of 2019, which includes the following notables with their most recent career affiliations in parentheses behind their names:
Jun B. Amora (Geisinger Health, Danville, PA)
Erin M. Bromley (Memorial Health System, Springfield, IL)
Brian A. Dolan (The University of Kansas Health System, Kansas City, KS)
Sidney L. Hamilton (Dartmouth-Hitchcock Health, Lebanon, NH, but previously The University of Vermont Health Network, Burlington, VT)
Sara M. Henderson (Avera Health, Sioux Falls, SD)
Jessica Rinderle (Mid-America Service Solutions/Vizient, Irving, TX)
The 12th Annual Bellwether Induction Dinner Event (BIDE 12) is scheduled for Monday, September 30, at The Westin-O'Hare in Rosemont, IL, a northwest suburb of Chicago adjacent to Chicago's O'Hare International Airport.
For more information on attendance and sponsorship of BIDE 12 and the 7th Annual Healthcare Supply Chain Leadership Forum, visit Bellwether League's web site at www.bellwetherleague.org or contact Co-Founder and Executive Director Rick Dana Barlow via email at rickdanabarlow@bellwetherleague.org.
Since 2007, Bellwether League's Board of Directors, a veteran group of industry advocates, evaluates and validates professionals submitted for consideration in its two award programs: Bellwethers and Future Famers.  
The Board selects deceased, retired and currently active professionals with a minimum of 25 years of exemplary service and leadership performance in supply chain operations that meet its criteria to be publicly recognized as Bellwether Class Honorees. Those honored demonstrate their qualifications by advancing the profession through work experience and performance and active participation in professional organizations and their communities.
So far, Bellwether League has honored 112 innovators, leaders and pioneers in healthcare supply chain management in five distinct categories: Education & Media, Supply Chain Management, Group Purchasing, Supplier and Consulting Services.
Bellwether League also has recognized 27 Future Famers, which represent supply chain professionals early in their healthcare careers who do not yet qualify for Bellwether consideration, but have contributed meaningfully and significantly to the healthcare supply chain profession.
The Hall of Fame for Healthcare Supply Chain Leadership is funded by five Founding/Platinum Sponsors – HealthTrust, Owens & Minor, Premier, Vizient and VIE Healthcare – and a host of additional sponsors.
For more information about Bellwether League, visit www.bellwetherleague.org.
Contact:  Rick Dana Barlow
Wingfoot Media Inc.
E-mail:     rickdanabarlow@wingfootmedia.biz
Phone:     847-466-7425