Media
Previous Press Releases
Healthcare Supply Chain Leadership Hall of Fame inducts 6


Newest "Future Famers," top Supply Chain department, retiring Board members also recognized
SCHAUMBURG, IL (October 6, 2016) – Bellwether League Inc. inducted 6 industry trailblazers to its Hall of Fame for Healthcare Supply Chain Leadership in a ceremony that celebrated the foundational elements of the past that pointed clearly to standard operations today.
Bellwether League also honored its Future Famers Class of 2016 and the first organizational recipient of the "Dean S. Ammer Award for Supply Chain Excellence."
Keeping in tune with tradition, Bellwether Class of 2016 honorees and their designees highlighted how their business relationships intersected during their careers as customers, competitors and even corporate advisers, as well as their ties to inductees in earlier Bellwether classes. Most credited their colleagues and families for supporting them.
Bellwether League inducted the newest class on Monday, October 3, during its 9th Annual Bellwether Induction Dinner event at the Hyatt Regency O'Hare Hotel.
The group, representing providers, suppliers and educational organizations, included: Edwin L. Crosby, M.D., Irving Mills, William E. Pauley, Carol S. Stone, Peggy Styer and Gary L. Wagner.
Nick Gaich, Bellwether League Board Chairman-elect recognized the six honorees as part of the larger group of 86 total Bellwethers inducted in nine years.
"It's an amazing feat when you think about a community of unparalleled excellence, and it's also a celebration of innovation, dedication and service," Gaich said. "We are very proud of what we do at Bellwether League, and over the last nine years we've worked hard to recognize supply chain leaders and innovators who have come before us, as well as those young executives who carry forward the legacy of contributions that impact what we do on a day-in and day-out basis."
Gaich encouraged attendees to meet one another, share insights, discover lessons learned and hear about the journey to get where they are today.
"While the six honorees we induct tonight all come from different past and got here by different routes, they now have one thing in common – they are all Bellwethers, and we are very proud to recognize them and hear about their journey to discovery," Gaich said
Recognizing performance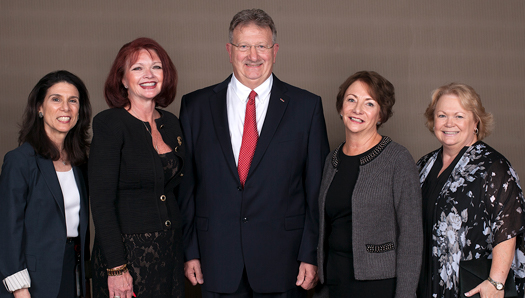 Caption: Standing (left to right): Lynn Dragisic for Edwin L. Crosby, M.D. (1908-1972), Carol S. Stone, Gary L. Wagner, Peggy Styer and Susan Parham for William E. Pauley (1926-2011). Not pictured: Andy Mills for Irving Mills (1906-1999).
Each of the Bellwether Class of 2016 honorees and their designees expressed appreciation and humility for being recognized, thanking colleagues, peers, team members and family for their ongoing support throughout their careers.
Edwin L. Crosby, M.D., who represented Bellwether League's first physician inductee, was first introduced to supply chain issues as a medical intern in the 1930s, and as an American Hospital Association executive three decades later, he was instrumental in the founding of what is now the Association for Healthcare Resource and Materials Management. Prior to his AHA leadership position, Crosby served as the founding director of what now is The Joint Commission. Because Crosby died in 1972, Lynn Dragisic, Executive Vice President of Support Operations at The Joint Commission, accepted the award on Crosby's behalf to display in in the national headquarters.
Dragisic applauded all of the past Bellwether classes as "certainly modeling the innovation and leadership that are desired by all of us who are committed to excellence in healthcare delivery" and congratulated this year's honorees.
She encouraged attendees to think about Crosby's vision and talent in that he saw the concept of "continuum of care," he understood that excellence in healthcare delivery meant excellence in all aspects of care – from direct medical treatment to supplies management to systems, and policies and standards. Instead of devoting his life and career to just one of those crucial areas as a healthcare leader and advocate, he worked to address them all," she noted.
Dragisic recalled the story of Crosby as a medical intern in the late 1930s who also drove an ambulance and when the tires needed replacing he removed them from the vehicle and placed them in the administrator's office to make his point. The tires were changed. Decades later when he led the AHA he kept a toy ambulance in a trophy case in his office … with the tires removed.
From Crosby's example, Dragisic said she learned to "make an impact wherever you are, make waves and make sure that everyone is paying attention to quality supplies management as a foundation of patient safety and healthcare quality."
As an 18-year-old young man in the 1920s Irving Mills jumped feet first into a business leadership role, taking over his father's garment factory when his father left him, his mother and two siblings behind. During the next three decades he refashioned the company into a leading medical supply distributor, debuting consignment as a customer service and multi-colored scrubs, all while attending night school for 15 years and raising a family.
Grandson Andy Mills, who heads up Medline Industries Inc., recounted his late grandfather's self-reserved personality in how he would respond to being inducted as a Bellwether.
"He'd smile and thank you, and then say that a thousand people were more deserving than him of the recognition," Mills said. "He was extremely modest and very self-effacing and he had great respect for the industry. He admired and knew the McGaw family (Foster McGaw was inducted into the Bellwether Class of 2010), Becton and Dickinson, and the Johnsons of Johnson & Johnson. They were his friends and business partners in many situations."
Supply chain as an industry really didn't exist back then, Mills said, so his grandfather looked to prominent retailers in the 1940s for ideas, such as Sears, Roebuck, which was based in the Chicago metropolitan area. From Sears, Mills created a medical supply catalog for his company to offer.
In states where the weather was unpredictable – specifically during the winter months – and because roads were not as well-paved back then, Mills would encourage customers "to load up on what they needed in the fall before the snow, and then he or a sales rep would come in March or April when the snow had melted, and they could pay for what they consumed then," he said, "and that's how consignment got started."
Mills lived to the age of 92 so the younger Mills said he knew him quite well.
"What I think he'd like to see now is decisions made with data," Mills said. "He'd recommend more trust and friendships and working together, and he would give complete visibility into the supply chain of our organization as keys to success."
Back in the late 1970s through the 1980s, William E. Pauley was one of the pioneers in consolidated service center operations, which remains a hallmark of integrated delivery network (IDN) success today. Centralized purchasing and distribution among multiple facilities may be more commonplace today but was far less prominent some three to four decades ago. Further, Pauley was a prolific author, publishing articles about quality buying and value analysis.
His daughter Susan Parham accepted the award on his behalf.
"Dad passed away five years ago," Parham said, "but I know that if he were here tonight he'd be so honored and so grateful for this recognition."
Carol S. Stone pushed against the limits of bar coding and open electronic data interchange (EDI) during the 1980s, advocating the use of supply chain data standards well before the alphabet soup of acronyms entered the healthcare lexicon.
"We would not be here doing what we're doing today if it had not been for those who came before us," Stone told the audience, referring to fellow Bellwethers Crosby, Mills and Pauley and those inducted in earlier classes." Stone also thanked those with whom she's worked during her nearly four-decade career so far, including many in the audience. "There are so many great people who I've learned from and have admired over the years, and I appreciate their friendship and support."
Stone said she never expected to land in supply chain having started her career in the laboratory performing chemical testing for Johnson & Johnson before moving on to regulatory affairs, finance, operations, systems, and sales and marketing positions. Her EDI systems involvement, however, linked her to supply chain.
"Back then you got involved in things because they were the right things to do," she said. "There were holes, there were gaps, there were things that needed to be done." She encouraged supply chain industry veterans and newcomers alike to "keep at it" because "there's a great path ahead of us and still a lot of work to be done."
Peggy Styer recognized 40 years ago that supply chain should be connected electronically to revenue cycle transactions and working more closely with physicians, both of which should draw C-suite interest. Styer also demonstrated courage to stand tall with her convictions and act as the voice of reason during negotiations, setting the standard for all those who followed her, according to Gaich who introduced her.
Styer credited her supply chain debut to her husband who encouraged and convinced her to answer a job ad in the newspaper for a purchasing supervisor and storeroom manager. She recalled progressing through her supply chain career by asking a lot of questions of anyone and looking at diagrams drawn for her so she could learn fundamentals as well as solutions to problems – from supplier representatives about various products to surgeons about how they used them to CFOs about such topics as Medicare step-down reimbursement issues to supply chain colleagues about processes.
"I thought I was in way over my head, but I loved to ask questions," she said. "Without these people helping me I wouldn't have been able to do what I did." She relished telling the audience that on her last day of work before she recently retired a neurosurgeon sketched out a diagram for how something worked. "These surgeons made it fun to go to work because I always learned something new every single day," she added.
"The best thing about our profession is that I have learned something new every single day and that's what makes it exciting," she said.
Gary L. Wagner embraced the notion of supply chain partnering with suppliers, co-developing concepts and solutions to problems instead of haggling over prices or arguing about service levels. From automating ordering processes to desktop delivery services for forms and office supplies to uniting inpatient and outpatient surgery services operations to launching specialty orthopedic ORs, Wagner stretched the boundaries of hospital-based supply chain influence.
As a decorated Bronze star recipient for his military service conducting helicopter air assaults during the Vietnam war, Wagner thanked a fellow officer with whom he shared more than 40 flights for saving his life because that captain encouraged him to transfer to the communications division of the 101st Airborne Division because an opportunity had opened up. Two weeks later, the helicopter they would have shared was shot down. "He saved my life," Wagner said.
Wagner then acknowledged all the help he received from a litany of hospital-based and supplier-based colleagues through the years who taught him about business and supply chain and balancing that with taking care of his family. He thanked his first wife for helping him through college as a young man to his daughter Kerianne and wife Joyce of 20 years, both of whom have supported him throughout the last decades of his career before he retires at year's end.
He concluded by thanking Bellwether League for honoring him as well as honoring supply chain, encouraging the organization to "please continue to do this."
Future Famers honored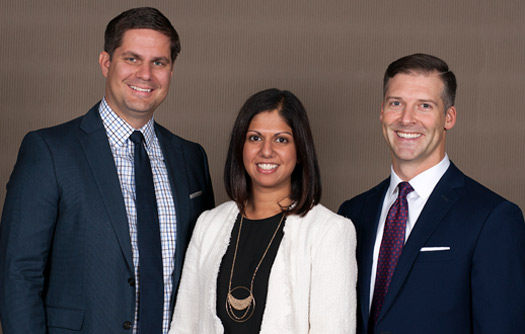 Standing (left to right): Erik Walerius, Nisha Lulla and Rob Proctor. Not pictured: Jimmy Henderson, Kate Polczynski and Baljeet Sangha.
Bellwether League also honored its 2016 class of Future Famers for supply chain professionals in the first decade of their career as noted by Treasurer Mary Starr.
"This is our second year offering this recognition, which we developed so that individuals who are relatively new to this field that are doing innovative things and breaking barriers could be recognized," she said. "We believe these innovators can be hall of famers in the future."
The current class of Future Famers included:
Jimmy Henderson, Materials Manager, Outpatient Surgery Center of Jonesboro (AR)
Nisha Lulla, Associate Vice President, Operations, Rush University Medical Center, Chicago
Catherine "Kate" Polczynski, Director, Procurement, Geisinger Health System, Danville, PA
Rob Proctor, Regional Vice President, Owens & Minor Inc., Nashville
Baljeet Sangha, Associate Administrator, Supply Chain, Zuckerberg San Francisco General Hospital and Trauma Center, and Associate Administrator, Business Operations, San Francisco Health Network
Erik Walerius, Chief Supply Chain Officer, University of Washington Medicine, Seattle
To read what these six professionals accomplished, click here: [insert April 29, 2016 Media page link]
Inaugural Ammer Award recipient revealed
Gaich explained that the Dean S. Ammer Award for Supply Chain Excellence recognizes the supply chain operations of healthcare provider organizations, giving them an opportunity to "self-reflect and assess their operational performance." Those organizations seeking Ammer Award recognition complete an extensive survey and then undergo a comprehensive on-site consultative assessment, evaluation and validation of their submitted application by selected members of Bellwether League's Board of Directors. These third-party industry survey teams provide expert observations and recommendations in eight major categories, ranging from leadership, culture and vision to strategic planning and operational execution, according to Gaich.
He credited Chairman John Gaida for initiating this project, ensuring its development and progress and announcing from the podium at the previous year's event that the first recipient would be recognized within 12 months. Gaich also recognized and saluted the team of professionals performing the reviews – Pat Carroll, Jamie Kowalski, John Strong and Mark Van Sumeren.
"After a thoughtful and thorough review, the Supply Chain Department of Ochsner Health System demonstrated, and more importantly, continues to push themselves to the highest standards of supply chain excellence in all eight categories of the Ammer Award validation review," Gaich said.
Michael Louviere (Bellwether Class of 2010), Ochsner's System Vice President, Supply Chain, accepted the award with colleagues Lloyd Gravois, Associate Vice President, Pharmacy and Supply Chain, and Mark Growcott, Manager, Supply Chain Finance and Strategy.
"We looked at this opportunity using the old adage, 'you know what you know but you don't know what you don't know,'" Louviere said. "For us, it was a nice venture into taking a look at what others thought were the important things for supply chain. If you ever want to know if you're made of the right stuff, are you going down the right path, then this is a great tool for that and for seeing where you are in the spectrum."
Bellwether League named the award after its first honoree in the Bellwether Class of 2008 as a tribute to his enduring contributions to the educator's healthcare supply chain development.
Looking to 2017
Bellwether League also marked the retirement of two Board officers, Chairman John B. Gaida and Treasurer Mary A. Starr.
Gaida, Senior Vice President, Supply Chain Management, Texas Health Resources, Arlington, TX, served for eight years on the Board, including three years as chairman, two years as secretary and three years as a founding Board member. Starr, Vice President, Member Care, Greenhealth Exchange, Reston, VA, served for six years on the Board, including four years as treasurer and two years as a Board member.
Nick Gaich, (Bellwether Class of 2013),CEO, Nick Gaich and Associates, Morgan Hill, CA, succeeded Gaida as chairman, and Deborah A. Petretich Templeton, R.Ph., Chief, System Support Services, Geisinger Health System, Danville, PA, succeeded Starr as treasurer.
"Purpose, passion and commitment are qualities we all aspire to achieve both in our professional and personal lives," Gaich said. "In the case of our two outgoing Board officers these qualities are without question. Their persistence, expertise and, in some cases, sheer will power consistently pushed the Board to achieve the highest standard of excellence in the work that we do on behalf of an industry we dearly love. "
About Bellwether League
Bellwether League's Board of Directors, a veteran group of industry advocates, selects deceased, retired and currently active professionals with a minimum of 25 years of exemplary service and leadership performance in supply chain operations that meet its criteria to be publicly recognized. Honorees demonstrate their qualifications by advancing the profession through work experience and performance and active participation in professional organizations and their communities. Future Famers represent supply chain professionals early in their healthcare careers who do not yet qualify for Bellwether consideration, but have contributed to the healthcare supply chain profession in a meaningful way.
To date, Bellwether League has honored 86 innovators, leaders and pioneers in healthcare supply chain management in five distinct categories: Education & Media, Supply Chain Management, Group Purchasing, Supplier and Consulting Services. Bellwether League also has recognized 12 Future Famers to date.
Launched in late July 2007 by a group of influential veterans in the healthcare supply chain industry, Bellwether League is a 501(c) (6) not-for-profit corporation that identifies and honors men and women who have demonstrated significant leadership in, influence on and contributions to the supply chain from healthcare providers, healthcare product manufacturers and distributors, group purchasing organizations, consulting firms, educational institutions and media outlets.
Bellwether League currently is funded by four Founding/Platinum Sponsors – Halyard Health, Owens & Minor, Premier Purchasing Partners and Vizient – and a host of additional sponsors.
The 2016-2017 Board of Directors of Bellwether League Inc. includes a veteran group of industry advocates:
Nick Gaich, (chairman) (Bellwether Class of 2013),CEO, Nick Gaich and Associates, Morgan Hill, CA
Patrick E. Carroll Jr. (secretary), President, Patrick E. Carroll & Associates, Cypress, CA
Deborah A. Petretich Templeton, R.Ph., (treasurer), Chief, System Support Services, Geisinger Health System, Danville, PA
Rick Dana Barlow (co-founder, executive director), President, Wingfoot Media Inc., Schaumburg, IL
Todd Ebert, R.Ph., President and CEO, Healthcare Supply Chain Association (HSCA), Washington
Jamie C. Kowalski (co-founder, founding chairman 2007-2013), CEO, Jamie C. Kowalski Consulting LLC, Milwaukee, WI
Michael Louviere, (Bellwether Class of 2010), System Vice President, Supply Chain, Ochsner Health System, New Orleans, LA
John W. Strong, (Bellwether Class of 2011),Principal, John Strong LLC, Fontana, WI
Mark A. Van Sumeren, Strategic Advisor, Health Industry Advisor LLC, Richmond, VA
For more information about Bellwether League Inc., visit www.bellwetherleague.org.