Media
Previous Press Releases
Sam Raudenbush, Bellwether Class of 2009, remembered by Hall of Fame for Healthcare Supply Chain Leadership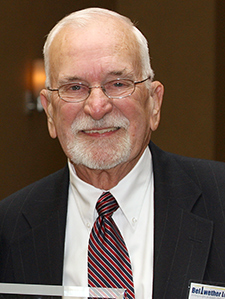 SCHAUMBURG, IL (January 3rd, 2017) – Anyone new to the healthcare supply chain management profession would have been remiss if he or she didn't reach out to Sam Raudenbush for advice, encouragement and support.
If you did, you and your career were better off because of it.
Bellwether League Inc. learned that Raudenbush, Bellwether Class of 2009, died on the morning of his 85th birthday, Friday, December 23, mere days after being diagnosed with lung cancer.
John Gaida, Bellwether League's Chairman Emeritus called Raudenbush his "very best friend" and one so very proud of his Bellwether status.
"Sam was a wonderful person who was one of the most outgoing guys I ever knew," Gaida said. "He had a kind word for everyone he met – everywhere he went he spoke to people and treated them as good friends. He had more good friends than a person could imagine. He was the quintessential customer service ambassador, proud of so many things in his life – his service in the Navy, his supply chain career, his multiple after-retirement careers, and of course, his beloved Penn State Nittany Lions. He truly loved life. He was extremely proud of his Bellwether status and spoke of it often. I will miss him dearly."
At Raudenbush's induction into Bellwether League more than seven years ago, Gaida introduced him as exemplifying "the ideal type of individual" to be honored by the Hall of Fame. "He worked hard his entire career, advancing the profession through innovation and national exposure," Gaida said. "He built trust and respect in every area of the business relationship between suppliers and providers. And he mentored those around him to assure the accomplishments he achieved could be passed on to those who followed him – opening doors for others that may not have been opened."
Patrick Carroll, Bellwether League's Secretary, remembered how Raudenbush, along with Sara Mobley (Bellwether Class of 2009) lent a hand as he was forming a San Francisco Bay area chapter of what now is known as the Association for Healthcare Resource & Materials Management (AHRMM).
"Sam was incredibly generous and helpful to me in my efforts," Carroll said. "Once I became a board member and met Sam in person, we kind of gravitated towards each other. Sam had a magnetic personality that attracted others, even young whippersnappers from the West Coast."
Carroll also lauded Raudenbush's professional and personal character.
"Sam was inducted as a Bellwether due to his long history of excellence in the healthcare supply chain," he said. "But despite his amazing skills, it was Sam's personality, heart and character that made him unique. He believed in supporting other people and encouraging them. He was an extremely loyal and devout friend."
Raudenbush spent his entire supply chain career at three different hospitals in Pennsylvania. Throughout the early 1960s he served as Director of Purchasing at Philadelphia's Lankenau Hospital and then St. Christopher's Hospital for Children. From the late 1960s to his retirement in 1995, he moved up the corporate ranks from Director of Purchasing to Administrative Director of General Services overseeing supply chain for Pottstown (PA) Memorial Medical Center. A pioneer in supply chain-surgical services relations, Raudenbush was one of the earliest supply chain leaders to place a materials management professional in the operating room to assist surgeons and nurses beyond inventory control, which remains a fairly standard model in the industry today. Raudenbush retired to Omaha, NE, followed by Greeley, CO, where he last resided.
To view Raudenbush's profile in Bellwether League's Hall of Fame for Healthcare Supply Chain Leadership, visit here: http://www.bellwetherleague.org/awards.html.
Raudenbush earned the highest award given by AHRMM, the George R. Gossett Leadership Award, in 1990, a year after completing his term as AHRMM President. AHRMM named the award in memory of Gossett, its first president, for his dedication to supply chain education and professional development within a profession he envisioned and promoted as a prominent participant the healthcare industry. Gossett was inducted into the Bellwether Class of 2010.
Raudenbush is survived by his wife Peggy of 25 years, Greeley, CO, and her adult children, along with his three adult children: Daughter Debra Raudenbush, and his sons, Robin Raudenbush, and Brian Raudenbush as well as their extended families.
The memorial service for Raudenbush will be held on Wednesday, January 18, at St. Peter's Covenant Church, Hilltown, PA, about 40 miles north of Philadelphia. Gaida will provide the eulogy. He will be buried in Pennsylvania in the family plot. In lieu of flowers, the Raudenbush family stated that anyone may make a donation to the Weld County Colorado Humane Society.
About Bellwether League
Bellwether League's Board of Directors, a veteran group of industry advocates, selects deceased, retired and currently active professionals with a minimum of 25 years of exemplary service and leadership performance in supply chain operations that meet its criteria to be publicly recognized. Honorees demonstrate their qualifications by advancing the profession through work experience and performance and active participation in professional organizations and their communities. Future Famers represent supply chain professionals early in their healthcare careers who do not yet qualify for Bellwether consideration, but have contributed to the healthcare supply chain profession in a meaningful way.
Bellwether League has honored 86 innovators, leaders and pioneers in healthcare supply chain management in five distinct categories: Education & Media, Supply Chain Management, Group Purchasing, Supplier and Consulting Services. Bellwether League also has recognized 12 Future Famers to date.
Launched in late July 2007 by a group of influential veterans in the healthcare supply chain industry, Bellwether League Inc., is a 501(c)(6) not-for-profit corporation that identifies and honors men and women who have demonstrated significant leadership in, influence on and contributions to the supply chain from healthcare providers, healthcare product manufacturers and distributors, group purchasing organizations, consulting firms, educational institutions and media outlets.
Bellwether League currently is funded by four Founding and Platinum Sponsors – Halyard Health, Owens & Minor, Premier Purchasing Partners and VIE Healthcare – and a host of additional sponsors.
For more information about Bellwether League Inc., visit www.bellwetherleague.org.