Media
Previous Press Releases
Supply chain 'hall of fame' seeks 2009 bellwethers
Bellwether League Inc. calls for honoree nominations
SCHAUMBURG, IL (January 20, 2009) – Do you know a bellwether in your organization? In your city or state? A real honest-to-goodness professional, who is a creative thinker, takes the initiative, makes positive and impactful changes, and acts in a way that promotes the principles and profession of supply chain management?
If so, Bellwether League Inc. (BLI), the healthcare supply chain "hall of fame," would like you to nominate him or her as it is currently seeking nominations for its Honoree Class of 2009, to be chosen this summer and recognized on Oct. 6, 2009, during its 2nd Annual Induction Dinner.
Schaumburg, IL-based BLI, a 501c(6) not-for-profit corporation, recognized its Class of 2008 Inductees on Oct. 28, 2008, at the Renaissance Chicago O'Hare Suites Hotel.
That inaugural Class included the late Dean S. Ammer, Ph.D., Lee C. Boergadine, Gene D. Burton, Charles E. Housley, Thomas W. Kelly, William J. McFaul, Tom Pirelli, Donald J. Siegle and Alex J. Vallas. Read each recipient's bellwether profile online at www.bellwetherleague.org/awards.html.
BLI seeks nominations in any of five distinct categories. They are: Education & Media, Supply Chain Management, Group Purchasing, Vendor and Consultant. The Education & Media category includes college/university professors and researchers, publishers, editors and writers. The Supply Chain Management category includes professionals working at hospitals and other non-acute care facilities, hospital systems and integrated delivery organizations. The Group Purchasing category includes professionals from among the national, regional, state, metropolitan and local group purchasing programs. The Vendor category includes professionals employed by manufacturers and distributors of products and services purchased by healthcare providers. The Consultant category includes those professionals advising, instructing and motivating healthcare supply chain management professionals as the primary focus of their practice over the years. Nominees can be retired or currently active professionals. Anyone can nominate a qualified professional for BLI Honoree recognition via BLI's Web site at www.bellwetherleague.org. Qualifications include advancing the profession and industry influence, a minimum of 10 years work experience, work performance and a minimum of five years of active participation in professional organizations. BLI's official nomination form can be found on its Web site.
About Bellwether League Inc.
Launched in late July 2007 by a group of influential veterans in the healthcare supply chain industry, Bellwether League Inc. seeks to identify and honor individuals who have demonstrated significant leadership in and influence on and contributions to the healthcare supply chain, including professionals from hospitals, non-acute healthcare providers, manufacturers and distributors of healthcare products, group purchasing organizations, consulting firms and educational institutions.
BLI is funded by five Founding Sponsors to date – Hospira, Kimberly-Clark Health Care, MedAssets, Owens & Minor and Premier Purchasing Partners – and a host of additional charter, corporate and professional sponsors.
BLI plans to recognize its second group of honorees this summer and honor them at a recognition dinner in Chicago in early October, a schedule that will continue annually.
BLI selects individuals that meet its criteria to be publicly recognized and recorded in print and online media for their contributions in advancing and improving all segments of the healthcare supply chain. The criteria include ethics, innovation, integrity, leadership, longevity, mentoring, reputation, speaking, teaching, writing and volunteering.
The Board of Directors of BLI comprises a veteran group of industry advocates who have volunteered their time and expertise to create and continually develop the organization and its ongoing educational activities. The Board includes:
Jamie C. Kowalski (co-founder and chairman), vice president, business development, Owens & Minor Inc., Milwaukee, WI
Rick Dana Barlow (co-founder and executive director), president, Wingfoot Media Inc., Schaumburg, IL
Robert P. "Bud" Bowen (secretary), retired CEO, Amerinet Inc., St. Charles, MO
Patrick E. Carroll Jr. (treasurer), president, Patrick E. Carroll & Associates, Cypress, CA
James F. Dickow, director of supply chain management, facilities and operations consulting, Lerch Bates Inc., Mequon, WI
John B. Gaida, senior vice president of supply chain management, Texas Health Resources, Arlington, TX
Laurence A. Dickson, retired corporate director of materials management, Sisters of Providence Health System, Seattle, WA
Thomas W. Hughes, executive director, Strategic Marketplace Initiative, Scituate, MA
Richard A. Perrin, president and CEO, AdvanTech Inc., Annapolis, MD
Derwood B. Dunbar Jr., president and CEO, MAGNET Co-op, Mechanicsburg, PA
For more information, to become a corporate or individual sponsor or to nominate honoree candidates visit Bellwether League Inc.'s Web site at www.bellwetherleague.org. Additional photos available on request and online.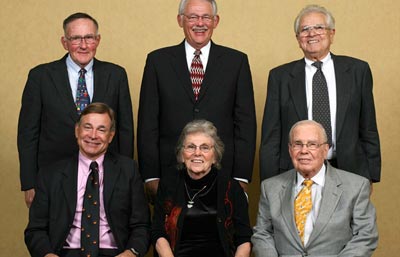 Bellwether League Inc.'s Class of 2008 Inductees
Front Row pictured from left to right: Tom Pirelli, Christine Ammer (for Dean S. Ammer, Ph.D.) and Gene D. Burton
Back Row pictured from left to right: Thomas W. Kelly, Lee C. Boergadine and Alex J. Vallas
Not pictured: Charles E. Housley, William J. McFaul and Donald J. Siegle