Media
Previous Press Releases
Hall of Fame for Healthcare Supply Chain Leadership welcomes newest Board member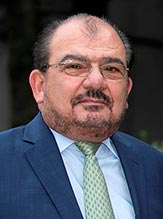 SCHAUMBURG, IL (February 14, 2020) – Bellwether League Inc., the Hall of Fame for Healthcare Supply Chain Leadership welcomed a new executive to its Board of Directors that evaluate, validate and select professionals to be recognized and honored for their industry contributions, performance and vision.
Nicholas C. Toscano, joins Bellwether League's Board to select Bellwether Class Honorees and Future Famers with a dedication to the profession's history and a resolve to help professionals improve the industry by learning from its past and present. Toscano, who is a veteran healthcare supply chain executive and Founder & CEO, Julicon Advisors LLC, was inducted into the Hall as an honoree of the Bellwether Class of 2018.
"I respect and admire that Bellwether League created a mission that recognizes the contributions of all the stakeholders in the healthcare supply chain," Toscano said. "I believe it's imperative to value and honor the contributions of all involved, including those from the past, present and future. I certainly understand that collaboration and knowledge transfer is a critical success factor in elevating the overall performance of the supply chain in our healthcare organizations. Bellwether League is providing an effective forum for all stakeholders.
"Recognizing Future Famers is another key driver to learning and raising the supply chain bar," Toscano continued. "Being able to learn and share what I refer to as my 'prouds and sorrys' of lessons-learned experiences with the younger generation is critical. We must continue to create a sense of value and contributions as we 'hand off the baton' to the next generation. It's important to give them the opportunity to listen and to learn about leadership development, to truly understand what it means to be a supply chain leader, and how vital our work is to enable value-based, high-quality patient care."
Toscano sees Bellwether League as an effective way to demonstrate and promote critical innovation and leadership within the healthcare supply chain.
"Healthcare is currently going through an unprecedented transformation period," he observed. "Innovation focused on quality and cost improvements is critical. It's imperative that Industry leaders continue to develop ways to drive better products, processes and services. As we drive innovation, it must feel like we are in a race without a finish line. That sense of urgency is critical. I believe that Bellwether League and its Board of Directors has opportunities to lead and support innovation and transformation that will radically improve the experiences for all healthcare stakeholders."
Toscano views Bellwether League as an educational depository and impartial platform supporting emerging technologies, innovation, transformation, responsible disruption and learning initiatives "to make certain the supply chain has the best tools, processes and transformation opportunities available to deliver excellence to all stakeholders and the communities we serve."
Toscano logged several decades of serving in supply chain executive leadership positions at hospitals and integrated delivery networks (IDNs) and with a leading healthcare product distributor. He looks forward to paying his experience forward.
"I am extremely honored and humbled for this opportunity," he said. "I will be surrounded by great people who share a sense of responsibility to give back to an industry that personally has been very good to me. I am fortunate to have long-term relationships with most of the Board members. I believe we all share a value system, guiding principles and a total commitment to continuous improvement of the healthcare supply chain. I always look to serve first. My servant leadership principles allow me to earn a trusted advisor role to mentor, influence and inspire others. The BOD is the platform to get it done. At this point in my career, I feel totally blessed to be a BOD member and continue my contributions to the industry."
Bellwether League Chairman Nick Gaich (Bellwether Class of 2013) welcomed Toscano as the newest member of the organization's Board of Directors.
"As a 2018 Bellwether inductee Nick brings a legacy of lifetime contributions, passion and commitment to advance Bellwether League's mission and vision as the preeminent organization for recognizing Supply Chain excellence among healthcare leaders and organizations," Gaich said. "Nick's willingness to serve as a Board Director strengthens not only his fellow Board members, but also will serve as a catalyst to advance our thinking, carry forward our strategic efforts, and most importantly, continue to serve our industry as a trusted professional making a difference. On behalf of myself and the entire Board of Directors we welcome Nick as a Bellwether League Board Director and look forward to his contributions in the years ahead."
About Bellwether League
Bellwether League's Board of Directors, a veteran group of industry advocates, evaluates and validates professionals submitted for consideration in its two award programs: Bellwethers and Future Famers.
The Board selects deceased, retired and currently active professionals with a minimum of 25 years of exemplary service and leadership performance in supply chain operations that meet its criteria to be publicly recognized as Bellwether Class Honorees. Those honored demonstrate their qualifications by advancing the profession through work experience and performance and active participation in professional organizations and their communities.
Future Famers represent supply chain professionals early in their healthcare careers who do not yet qualify for Bellwether consideration, but have contributed to the healthcare supply chain profession in a meaningful way.
To date, Bellwether League has honored and inducted into its Hall of Fame 112 innovators, leaders and pioneers in healthcare supply chain management in five distinct categories: Education & Media, Supply Chain Management, Group Purchasing, Supplier and Consulting Services. Bellwether League also has recognized 27 Future Famers.
Launched in late July 2007 by a group of influential veterans in the healthcare supply chain industry, Bellwether League Inc., is a 501(c)(6) not-for-profit corporation that identifies and honors men and women who have demonstrated significant leadership in, influence on and contributions to the supply chain from healthcare providers, healthcare product manufacturers and distributors, group purchasing organizations, consulting firms, educational institutions and media outlets.
Bellwether League currently is funded by six Founding and Platinum Sponsors – HealthTrust, Intalere, Owens & Minor, Premier, Vizient and VIE Healthcare – and a host of additional sponsors.
The 2020-2021 Board of Directors of Bellwether League Inc. includes a veteran group of industry advocates:
Nick Gaich, (chairman) (Bellwether Class of 2013),CEO, Nick Gaich and Associates, Morgan Hill, CA
Nathaniel Mickish (secretary) (Future Famers Class of 2015), Vice President, Sourcing, Supply Chain Management, Texas Health Resources, Arlington, TX
Deborah A. Petretich Templeton, R.Ph., (treasurer), Chief, System Support Services, Geisinger Health, Danville, PA
Rick Dana Barlow (co-founder, executive director), President, Wingfoot Media Inc., Schaumburg, IL
Karen Conway, CMRP, Vice President, Healthcare Value, GHX, Colorado Springs, CO
Dee Donatelli, R.N. (Bellwether Class of 2015), Vice President, Professional Services, TractManager,Newton, KS
Edward J. Hisscock, Senior Vice President, Supply Chain Management, Trinity Health, Livonia, MI
Jamie C. Kowalski (co-founder, founding chairman 2007-2013) (Bellwether Class of 2017), retired CEO, Jamie C. Kowalski Consulting LLC, Milwaukee, WI
Nicholas C. Toscano (Bellwether Class of 2018), Founder & CEO, Julicon Advisors LLC, Saint Simons Island, GA
For more information about Bellwether League, visit www.bellwetherleague.org.
At a glance:
Bellwether League's 8th Annual Healthcare Supply Chain Leadership Forum
Date: Monday, October 5, 2020
Time: 5:30 p.m.-6:30 p.m.
Location: Executive Forum Amphitheater, The Westin-O'Hare, 6100 N. River Road, Rosemont, IL, 60018
Bellwether League's 13th Annual Bellwether Induction Dinner Event (BIDE).
Date: Monday, October 5, 2020
Time: 5 p.m.-10 p.m.
Location: The Westin-O'Hare, 6100 N. River Road, Rosemont, IL, 60018
Contact:  Rick Dana Barlow
Wingfoot Media Inc.
E-mail:     rickdanabarlow@wingfootmedia.biz
Phone:     847-466-7425