Media
Previous Press Releases
DeWight Titus, pharmacist, distribution innovator and pioneer, remembered by Hall of Fame for Healthcare Supply Chain Leadership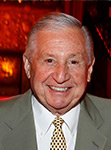 DeWight Titus (1934-2022)
SCHAUMBURG, IL (May 11, 2022) – Like his father and grandfather before him, Frank DeWight Titus III, had community and customer service coursing through his veins.
While his family predecessors created and nurtured the treasured Titus legacy and reputation for quality and service in southern California, Titus III built on that solid foundation, expanding the family's local pharmacies into what would become a respected regional powerhouse in medical/surgical and pharmaceutical supply services to nonacute care facilities.
Bellwether League Foundation (BLF) inducted Titus into the Hall of Fame for Healthcare Supply Chain Leadership as an honoree in the Bellwether Class of 2021 last October.
BLF learned that Titus, 88, passed away at his home last Tuesday, May 3.
Deborah Templeton, R.Ph., Chairman, Bellwether League Foundation, and fellow pharmacist, hailed Titus' dedication and legacy to the industry and profession, expressing gratitude for what he accomplished.
"As both a pharmacist and a supply chain professional, I can relate to DeWight Titus' career path," Templeton said. "I appreciate his contributions, and on behalf of the Bellwether League Foundation, I wish to extend our sympathies and thanks to his family."
Carl Meyer (Bellwether Class of 2019), Bellwether League Foundation Advisory Council member, and Executive Vice President, The Wetrich Group, recognized the innovative leadership of Titus that made him an industry trend setter.
"DeWight was a highly respected leader in the med/surg distribution industry," Meyer noted. "When he decided to sell F.D. Titus & Son to General Medical it set in motion the acquisitions of several other nonacute distributors in a short period of time, which lead to the creation of the first, and to this date, only med/surg distributor that serviced all points of care. This allowed for the rapid growth of General Medical, which ultimately lead to its purchase by McKesson."
Looking back on a titan
Hall of Famer Titus embraced what he called his "birthright," a career in pharmacy that saw him attend and graduate from USC's School of Pharmacy just as his father did. Titus then completed some post-graduate service in the military. While a clerk in his father's pharmacy, Titus earned his "first real taste of the profession" and "enjoyed interacting with the patients."
After college, Titus returned to the family business and helped his father and aunt open two additional pharmacy locations before deciding to embark on a new adventure spawned by his father. With his love for customer interaction, Titus left the retail pharmacy side of the family business to concentrate solely on the growing medical/surgical supply part of the company that his father had founded more than a decade before.
Titus appreciated the sales aspect of the business where he met with customers face-to-face and supplied nursing homes and physician groups with bandages, dressings, exam tables, orthopedic supports and other medical and surgical supplies and equipment.
During the next three decades, Titus built F.D. Titus & Son Inc. into one of the nation's leading regional distributors of med/surg products to nonacute care facilities. Titus served as Executive Vice President of the company from 1972 to 1982, then was elevated to President and Chief Operating Officer for the next decade. In 1992, he served as President and CEO.
Titus featured some unique elements in the company's single-site distribution center to start, including incorporating high-end logistics equipment and technology and relying exclusively on third-party carriers to handle shipping. Gravity-fed racking and serpentine conveyor systems optimized the space, augmented manual labor and drove significant efficiencies.
Amid the healthcare reform movement that dominated much of the 1990s, Titus opted to sell the company to General Medical Corp. in mid-1994 to expand the growing business and preserve the Titus customer service legacy by bringing it to a national base. Titus joined General Medical as Vice Chairman, Executive Vice President and a Director, helping the new parent company fortify its deepened reach into the nonacute care market segment. When General Medical was acquired by McKesson Corp. in 1997, Titus retired and concentrated on charity and community voluntarism.
Through Titus' leadership and oversight, F.D. Titus & Son Inc. not only became a successful enterprise for the physician office/practice segment, but it also served as an example for local and regional distributor modeling through the last decades of the 20th century.
During his stellar career, Titus also served as Chairman of the Health Industry Distributors Association (HIDA) in 1983 and as Chairman of the HIDA Educational Foundation from 1986-1990 and a second time in 1997. Titus was instrumental in developing a number of key HIDA programs that continue today.
In addition to his Hall of Fame induction in 2021, Titus earlier earned HIDA's John F. Sasen Award in 1986 back when HIDA called it the Industry Award of Distinction.
Titus was preceded in death by his first wife Helena who died in 2008 after 42 years of marriage. He married Mary-Anne Disimile in 2012 and is survived by her and three children with Helena and several grandchildren.
The Titus family is scheduling a memorial service in June.
---
About Bellwether League Foundation
Bellwether League Foundation comprises two operating divisions that educate, endow and evaluate professionals in healthcare supply chain performance excellence: The Hall of Fame for Healthcare Supply Chain Leadership and Bellwether Philanthropy.
The Hall of Fame for Healthcare Supply Chain Leadership evaluates and validates professionals submitted for consideration in its three award programs: Bellwether Honorees, Future Famers and Ammer Honorees. The Hall of Fame also offers educational content via the Healthcare Supply Chain Leadership Forum and its "Leaders & Luminaries" multimedia of live, online and printed content.
The Board selects deceased, retired and currently active professionals with a minimum of 25 years of exemplary service and leadership performance in supply chain operations that meet its criteria to be recognized publicly as Bellwether Class Honorees.
Future Famers represent supply chain professionals early in their healthcare careers who do not yet qualify for Bellwether consideration but have contributed meaningfully to the profession and industry.
Honorees who receive the "Dean S. Ammer Award for Healthcare Supply Chain Performance Excellence" represent noteworthy executives and professionals in the middle of their careers who, through their innovative leadership and influential project management experience, best exemplify the practice and spirit of healthcare supply chain performance excellence.
To date, The Hall of Fame for Healthcare Supply Chain Leadership has honored 129 innovators, leaders and pioneers in healthcare supply chain management in five distinct categories: Education & Media, Supply Chain Management, Group Purchasing, Supplier and Consulting Services. Bellwether League also has recognized 33 Future Famers, and two Ammer Honorees.
Bellwether Philanthropy offers grants, scholarships and capstone educational projects to college-bound high school students who plan to study supply chain curricula, current collegiate students who major in supply chain-related careers and professionals who pursue continuing education through associations and universities.
Launched in late July 2007 by a group of influential veterans in the healthcare supply chain industry, Bellwether League Foundation began as a 501(c)(6) not-for-profit corporation that upgraded to a 501(c)(3) nonprofit organization in January 2021.
Bellwether League Foundation currently is funded by six Founding and Platinum Sustaining Sponsors – GHX, HealthTrust, Owens & Minor, Premier, Vizient and Wingfoot Media – and a host of additional sustaining sponsors at varying levels.
For more information on how to become a sustaining or corporate sponsor or to nominate Bellwether Honoree, Ammer Honoree and Future Famer candidates visit BellwetherLeague.org.