Media
Previous Press Releases
Hall of Fame for Healthcare Supply Chain Leadership remembers, salutes Tom Hughes (1945 - 2021) with heartfelt tributes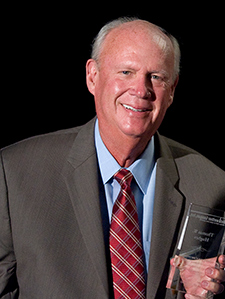 Thomas W. Hughes (1945-2021), Bellwether Class of 2012
SCHAUMBURG, IL (February 5, 2021) – Since the unexpected passing of Tom Hughes, Bellwether Class of 2012, last week, tributes continue to flow into Bellwether League Foundation headquarters.
And rightly so.
Many of those he assisted, he befriended, he helped, he mentored, just want to express their appreciation, remember and give their heartfelt thanks.
Hughes, 75, died on Tuesday morning, January 26, three days before he was to retire as Founding Executive Director of Strategic Marketplace Initiative (SMI). He dedicated 16 years at the helm of SMI, and his final contribution served as a capstone for a 55-year career in healthcare.
If you would like to share your own thoughts about Tom Hughes, please email them to Bellwether League Foundation at rickdanabarlow@bellwetherleague.org to be recorded and posted here.
The essential Tom Hughes
"I cannot tell you how shocked I was last week to receive a call from Tom Hughes' daughter, Samantha, with the news of his sudden passing.
"I have lost a great, great friend and I will miss him very much. Looking back, we met in the 1970s when I was with Massachusetts General Hospital and he was at Tufts New England Medical Center. We were two young 'bucks' at the forefront of Massachusetts hospitals changing their historical billing model of cost-plus fixed fee to a new, more stringent model called a diagnostic related grouping (DRGs).
"I view Tom as a Pioneer in the Healthcare Industry. Though his writings, his speaking, his consulting and his 16 years at the development of Strategic Marketplace Initiative (SMI), he bought the healthcare supply line from the back room to the front of the desk of every hospital administrator in America. All of us who have spent any time as a hospital patient should thank Tom for his contribution in striving to assure the patient always had the best quality product for the best price at the right time. Tom Hughes' life's work was to bring the hospital supply chain to the forefront of hospital management. He literally raised the bar for all of us. For that, all of us can be thankful."
Tom Kelly
Bellwether Class of 2008
_____
"I first met Tom Hughes in 1990 at the suggestion of an administrator who worked at the same hospital where I was the pharmacy director. He felt that Tom, who was growing a small materials management consultancy, would be interested in my professional background and likely want to integrate my clinical experience within the framework of supply chain logistics.
"So, I joined Tom at Concepts In Healthcare (CIH) a few months later, leaving behind the security of a large teaching hospital job, to enter the more volatile world of healthcare consulting. It was the best career move I ever made. It enabled me to work alongside and learn from one of the most visionary and innovative leaders in our industry. CIH grew and gained considerable recognition as a leading healthcare consultancy over the following 10 years until our acquisition by BD. Tom was the primary reason for that success.
"Tom had the unique ability to size up the needs of a prospective client and define the process needed for them to achieve success. He would translate this vision into an actionable plan for our consulting team to bring together the exact expertise and resources needed to 'delight the client.' This was the 'secret sauce' that underpinned our successful growth in an increasingly more competitive marketplace. He would constantly follow each consulting engagement to ensure we remained on track and would deliver results that exceeded the expectations of our clients.
"Yet despite his drive for perfection, Tom was one of the kindest individuals I have ever worked with. He was always interested in my needs and that of my family. Even when we differed on approaches to projects, he would listen intently to my position, and many times change his own thought if he felt it was the right way to go. It was this mutual respect that galvanized our continued friendship years after I had left the practice. We enjoyed talking by phone every few weeks and then meeting several times each year.
"I have many special memories of things that happened while traveling on business with Tom. Some stories were hilarious while others poignant and quaintly Tom. On a more personal level, I remember him calling me one Sunday afternoon as though it was a major emergency. That was the day that Bill Parcells was hired by the New England Patriots to be their head coach many years ago. Tom said this marked a new world for 'the Team' and that they were now serious about building a powerhouse. He wanted to watch this unfold in person and thought I would, too. So, he asked me to drive over to the stadium and purchase season tickets for him before the waiting list got too long. Even in football, Tom had the vision to pick the winners.
"It is extremely hard to process that Tom has now passed. I still feel like I can pick up the phone and call him or send him a quick text message. Although I saw his health decline over the years, he remained strong in my mind as a leader and mentor. I loved Tom Hughes and will miss him dearly. Godspeed my friend.
Marv Feldman, R.Ph.
Bellwether Class of 2018
_____
"Tom will be missed by so many. He was the first supply chain person I met in the business back when I was just starting out at University Hospital in Boston. He was at Tufts. He encouraged me to join HSMMS, introduced me to so many folks. As so many have said he was always there when you needed a hand or someone to bounce an idea off. I had many opportunities to work with him and Joey and the great team at the consulting business over the years. Every experience was wonderful. Although I could never join SMI as I worked at a GPO (a great joke between us) he was always there to mentor, provide thought-provoking ideas and just be a friend. One of the greats who will be missed."
Jim Oliver
Bellwether Class of 2017
_____
"I have known Tom Hughes since my very early days in healthcare purchasing and materials management in the late 1970s in New England. Tom was clearly a highly intelligent and knowledgeable professional in the healthcare supply chain environment. But he was also most notably a modest and humble man, who would always lend an ear and a piece of advice to anyone who sought his wisdom. Tom was a consummate gentleman. In the nearly 50 years that I have known Tom, I have never heard an unkind word flow from his mouth about any person or organization. I can't ever recall seeing Tom without a warm, greeting smile and genuine affection for everyone in his presence.
"It was an honor to serve with Tom on the initial Bellwether League Board of Directors, and I would say without question that his calm, but firm, demeanor and subtle leadership style led us through many rough seas in those early days. The industry, and indeed our community as a whole has lost a dear friend and leader. I will miss him greatly."
Robert "Bud" Bowen
Bellwether Class of 2014
Founding Secretary, Bellwether League Inc. (2007-2010) and Founding Board Member
_____
"Tom was, first of all, a friend that I always enjoyed visiting with. Tom was a mentor and advisor, a leader that always had a solution to any problem and the insight that made me a better supply chain professional. He will always be remembered, and I offer my love and prayers to his family."
Dale Montgomery
Bellwether Class of 2014
_____
"What I remember most about Tom was that he was the consummate professional host. He connected people. During every SMI meeting he made sure to check in with everyone and to see that their needs were being met. He took the advancement of supply chain seriously, and often would reach out to discuss an issue or to give advice, which could include from time to time, restaurant recommendations in Boston. In my early days in supply chain, Tom reached out and did what he did best – connected me with people that he thought would be valuable for me to get to know. I can still picture him in his trademark baseball cap kicking off the SMI forums. I will miss him as both a colleague and a friend."
Deborah Templeton, R.Ph.
Chairman, Bellwether League Foundation
_____
"I met Tom in October 1989 one week after the Bay Area earthquake. I was living there at the time and flew across country to the NJ JJHCS offices for an educational seminar that Tom was teaching. We sat together on a bus going into New York City for dinner and a show. We talked non-stop going in and returning about family and our shared life-long passion for healthcare and the healthcare supply chain. We became life-long friends from that day on.
"The things I will always remember about Tom was first his sense of humor. Many times, I was the brunt of this humor, but it was always in good fun. When his daughter called me with the news, I was shocked and saddened, and I told her what a profound impact her Dad had on my career. Every job that I was considering I would always reach out to Tom for his insight and counsel. Tom had that kind of feedback that would ensure you looked at all the angles. I can honestly say that a lot of my success was influenced by Tom and his counsel, and I was one of many. Tom always made time. Tom was very dedicated to his family and the love of his life Joey. Many times, when we were out to dinner, I would ask about how they met. I would love to hear the story over and over. They were inseparable.
"Lastly, Tom loved what he did in improving the healthcare supply chain, his energy, passion and non-stop traveling to teach, consult and mentor made a huge difference. Tom will be missed!"
William Donato
Bellwether Class of 2013
_____
"Tom Hughes was first and foremost my friend, and he was also my mentor and my boss during the last 35 years. I had the good fortune to spend over 20 of those years working directly with Tom. His influence on me, my family and the healthcare supply chain industry will continue to be felt for decades to come. I am forever grateful for the friendship, mentoring and guidance that Tom provided to me over the years.
"Anyone who knew Tom or worked with Tom knew that he was a constant advocate for the 'strategic supply chain' where supply management and clinical management collaborate to make sure patients have the best devices possible. Tom's leadership in the industry was evident to all in every role he fulfilled throughout his career. His vision for the future was unparalleled, his advice was almost always spot-on and valued by many, and his ability to think through a situation or challenge was simply off the charts. Like myself, many prominent people in this business owe so much of their career success to Tom – he taught so many not only how to analyze and assess, but also how to turn that into real positive change.
"While Tom was certainly a business giant, he was also one of the most caring and supportive people I've ever met. He genuinely wanted everyone to be successful. He loved his network of people in the industry and he kept that network fresh. But Tom was not the retiring type, and he worked every day until he passed so suddenly. You could tell that he loved to learn from others, and he valued other people's thoughts and opinions because he was a great listener. He was especially excited about all the newer, younger people in healthcare supply chain.
"He loved his beautiful family dearly, and when he often said his wife Joey was really the CEO, everyone knew he meant it – with lots of love! I know there are dozens of people in healthcare supply chain like myself that already miss his voice, his stories, his powerful insights. This industry needs more folks like Tom Hughes. But he was one of a kind, and he will be missed terribly by all – especially me."
Dennis Orthman
Former Senior Director, SMI
_____
"We just lost a giant in the industry. I lost a 40-year friend.  Tom Hughes was one of a kind – a visionary, a leader, a mentor and really an all-around great guy. He took chances, changed the supply chain profession and forged a path most would never attempt.
"We disagreed many times on all kinds of topics, but when it came to the important stuff we always agreed. Supply chain was his passion. He spoke of it lovingly – as it was in the past, what we were experiencing today and what he thought it would become in the future. People gravitated to Tom because they recognized his knowledge and the dynamic way he worked with them. I believe if you were able to ask him what his most notable achievement was in the healthcare supply chain field, it would be that he surrounded himself with smart people who always made him look good!
"We lost a giant, but the industry is far better for his influence, and most of all his friendship to every one of us!"
John Gaida
Bellwether Class of 2018
Chairman, Bellwether League Inc. (2013-2016), Secretary (2010-2012) and Founding Board Member
_____
"Our Friend Tom Hughes…
"Yesterday, I received several emails and calls from friends who knew of the years Tom and I had spent together as friends and partners working on many different projects. Thanks so much to all of you for reaching out and sharing your concerns. I spent time last evening and this morning reflecting on the memories of our special times together.
"Tom and I first connected in Boston when he was at the Beth Israel Hospital, and I was across the street at the New England Deaconess. He and I attended several educational programs and collaborated on forming a new group to enhance supply chain management education. I had joined the International Materials Management Society (IMMS), and we formed a Health Care Section of IMMS to provide education programs to health care personnel. 

"Later, Tom, Jack Anderson and I crafted the bylaws of the Health Care Materials Management Society. Tom served as second president of our growing society in 1983-84. One of the early seminar programs we put together featured Dean Ammer as a keynote speaker, and this program set the tone and direction for subsequent educational activities.  Tom and I and several other members of our group worked to craft our certification program for healthcare materials managers (CPHM). Years later, HCMMS was integrated with the AHA's American Society of Healthcare Purchasing Managers and our CPHM program provided the basis for today's Association of Healthcare Resource and Materials Management Certified Material & Resource Professional.
"Along the way, Tom and I had changed jobs; he went to Waterbury Hospital and I moved to the Massachusetts General Hospital. Tom returned to Boston a couple of years later when he took a position at Tufts New England Medical Center in the early '80s. We continued to collaborate over lunches and dinners in Boston, planning the formation of our consulting company and ongoing educational activities for HCMMS. Ultimately, we met at our home in Scituate to form Healthcare Concepts (Concepts in Healthcare in Massachusetts). 
"We worked hard to build the business, and our company wrote a monthly newsletter for many years – "Material and Financial Strategies."  Tom's wife Joey was a key part of our editorial efforts. Years later we split the company into two parts – one focused on government consulting and information systems and the other more on commercial healthcare consulting. At the end of the '90s, Tom's Concepts in Healthcare was acquired by Becton Dickinson, and Healthcare Concepts became AdvanTech, developing medical informatics and government logistics systems. The list of clients we supported goes on and on, and there are too many to mention, but I am grateful for his friendship and sage advice over the years.
"In early 2000s Tom went on to [help develop and grow] the Strategic Marketplace Initiative (SMI), dedicated to bringing together healthcare supply chain leaders from all industry sectors including providers, manufactures, group purchasing organizations, and distributors. With Tom's outstanding leadership SMI continues to provide significant contributions to the healthcare industry today.
"In 2005 and 2006, Tom and I and several others, Jamie Kowalski, John Gaida, John Strong, worked together to form Bellwether League Inc., dedicated to recognizing outstanding leaders in the healthcare field. Tom had previously received the prestigious George R. Gossett Award from AHRMM in 1994 and was inducted into Bellwether League as an honoree in 2012. 
"Enough about the history of our friendship though. As I sit here remembering the good times we shared and the contributions to the industry over the years, there are some very personal aspects about Tom and our friendship that stand out. 
"Tom was dedicated to furthering the healthcare supply chain management profession. He was committed to educational excellence and fostering progressive thinking. He served as a mentor to those who had the opportunity to work with him. He was one of the most intelligent, hard-working and thoughtful individuals I ever worked with. 

"Tom was always sensitive to those around him. Sometimes acerbic and other times witty, he always offered sage advice about the people we were working with and the projects in which we were engaged. His years in healthcare management and consulting gave him a solid foundation for his continued leadership to healthcare. Above all, Tom was a man of his word. He was kind, honest, and a stalwart individual who will be cherished by the memories he created with all of us that were blessed with his friendship, partnership and leadership.
"In closing, we are sending our thoughts and prayers to Joey and Tom's family and friends for comfort and support. We are so fortunate to have had Tom's friendship and partnership over the years. Tom will always be a special part of our memories!
"May God Bless us all!"
Richard Perrin
Bellwether Class of 2014
Bellwether League Inc. Founding Board Member (2007-2012)
_____
"I think it is safe to say that no one had a bigger impact on my healthcare supply chain career than Tom Hughes. Through his writings, friendship, mentorship and as a leader Tom was second to none."
John Strong
Bellwether Class of 2011
Bellwether League Inc. Board Member (2012-2017)
_____
"Tom was a warm and friendly man who managed to be incredibly smart, but down to earth and never intimidating. He was dedicated to the industry and worked tirelessly to advance our collective work."
Mary A. Starr
Bellwether Class of 2018
Bellwether League Inc. Board Treasurer (2012-2016)
Vice President, Member Care, Greenhealth Exchange
_____
"What Do You Say When a Giant Passes?
"Within the last week, two people who occupied giant spaces in the fabric of my life passed away. Hank Aaron was one of the idols of my childhood. I had started to write an article about Hank, but I had to interrupt it when I learned of the unexpected passing of Tom Hughes.
"When I entered what is now called Supply Chain Management (SCM) back in 1973, there was no formal recognition of the discipline. The predominant positions within the function were Purchasing Director and Storeroom Manager. The highest title you would find in what is now SCM was probably, 'Director of Materials Management,' and there were precious few of those – generally limited to only the biggest and most prestigious institutions.
"Tom Hughes was among an elite group of visionary leaders who changed all that. After several years as a successful leader at several prominent hospitals in Boston, including Tufts New England Medical Center and Beth Israel, he formed a friendship with Dick Perrin, which ultimately led to the founding of the consulting firm that would become known as Concepts in Healthcare – in my opinion the finest Supply Chain management consulting firm ever to practice in the healthcare field.
"I first met Tom Hughes in 1990 when I was Director of Materials Management at Lehigh Valley Health Network in Allentown, Pennsylvania. His firm had been hired by IT to do some work to integrate the system's Materials Management software with other applications (this was before the advent of integrated ERP offerings). When I met Tom and his co-worker Tom Kelly, I expected to meet a peer. After all, Lehigh Valley was the second largest system in Pennsylvania, and I was leading the Materials operation. From the moment we shook hands, I realized that Tom was a big-league star, and I was a minor leaguer trying to work my way up the ladder. Tom was erudite, smooth, intelligent – and worked with senior leadership as a peer. Whenever he spoke, he owned the room. Whatever his team recommended was implemented. And if his team came to your organization once, they would inevitably be back again.
"I did my first consulting work with Concepts in Healthcare in 1994 – working on a project at M. D. Anderson. It was during that engagement that I met Dennis Orthman, who later would become a significant contributor to Tom's crowning creation – Strategic Marketplace Initiative. On that project, I learned how to be a good consultant. Working with Tom, I constantly was surrounded by the best of people, and Tom's leadership provided the best exemplar to follow.
"In 1998, I got the opportunity to work with Tom's organization full-time. By then, he had sold his firm to Becton Dickinson. The firm's name had changed to BD Healthcare Consulting, but the same excellent people were there, and Tom was still in charge. When Tom offered me the opportunity to come on board as a full-time consultant, I knew I had arrived. Only the best of the best worked for Tom. To give you an idea, Bellwether League Foundation's Hall of Fame for Healthcare Supply Chain Leadership inducted Tom and seven other people he worked with or worked for him: Dee Donatelli (2015), Peggy Styer (2016), Marv Feldman (2018), John Gaida (2018), Tom Kelly (2008), Dick Perrin (2014) and myself (2020). If Miami of Ohio is rightfully called 'The Cradle of Coaches' because of the number of all-time great coaches who matriculated there, then Concepts in Healthcare and BD Healthcare Consulting could just as well be called 'The Cradle of Supply Chain Leaders.'
"In my life, there are two accomplishments that stand out above the rest: Being a U.S. Navy Hospital Corpsman and being deemed good enough to work for Tom Hughes.
"Over the years, Tom was to become an icon in the industry. His crowning accomplishment was working with a small group of prominent supply chain leaders who created and launched the Strategic Marketplace Initiative, a collaborative between healthcare suppliers and providers whose aim was to develop and put forward free of charge tools that anyone in the healthcare supply chain could have access to and use to improve their operations.
"While Tom was certainly 'one of the guys' who liked to hang out with friends such as John Gaida, Bill Donato, Carl Manley, Mike Louviere and Jim Francis, there are few, if any, people who have advanced the cause of women in leadership positions as Tom did – people like Dee Donatelli, Peggy Styer, Jane Pleasants and Lauren Lawrence are just a few of the many whose careers Tom had a very strong hand in advancing.
"As I said earlier in this piece, Tom Hughes' greatest contribution was the legitimization of the supply chain as a viable and most important component of American healthcare. He did it with style, grace, intelligence and dignity. Today, there are hundreds of people across the country mourning Tom's passing. I am one of them. I called Tom a couple of weeks back to see how he was doing. I knew he was scheduled to retire (Friday, January 29 was to be his last day), and I was concerned that once away from the fray, he would not fare so well. It had always been my belief that the thing Tom feared above all else was becoming inconsequential.
"We had a lovely conversation, and I told Tom that I hoped he would be happy in retirement. He told me that he was going to be alright. I told him that I loved him and thanked him for everything he had done for me in my life. Then we said our good-byes – promising to keep in touch.
"Tom never had to deal with post-retirement depression. He fooled us all by passing three days before retirement – still in the saddle, with his boots on.
"Farewell, my friend. You will be missed."

Fred W. Crans
Bellwether Class of 2020
Healthcare Business Development Executive, St. Onge Company
_____
"Tom Hughes was an innovative critical thinker that defined our Supply Chain profession. He bought his ideas forward by forming Concepts in Healthcare and later [developing and growing] SMI. He was a mentor to many of us and a friend to all that knew him. Tom was a team builder who brought together clinicians, planners and pharmacists with 'box kickers' (his term) to craft effective and often creative solutions for his clients. Tom challenged the tried and perhaps true by asking 'why.' At a difficult time for me personally, Tom kept in close contact and made sure that I was busy working for him. Tom's impact on our profession is enormous; he was a giant and I will miss him."
Jack Anderson
Bellwether Class of 2020
CEO, Material Resource Center Inc.
Director, Supply Chain, Methodist Hospitals, Merrillville and Gary, IN
_____
"When Tom Hughes died earlier this week, the industry and Supply Chain profession lost a major player. A leader and big thinker.
"I knew Tom as a colleague, Founding Board Member of Bellwether League Inc., teammate and competitor in the supply chain consulting business. He was really good in all of these roles.
"And, most importantly, over time, we became friends. I had the opportunity to spend a full day and enjoy dinner with Tom while we were both in Indianapolis several years ago. We got to know each other pretty well during that albeit, relatively short time. Sure, we discussed our industry and profession, but more so our lives beyond our work. He was a very interesting guy with a great sense of humor, and one who cared deeply about others. He believed his professional life was in sync with his personal life, in that his life's goals were being achieved in both realms. He sincerely wanted to help others and he made time to do that. And do it very well.
"May he rest in peace."
Jamie Kowalski
Bellwether Class of 2017
Co-Founder and Founding Chairman, Bellwether League Inc. (2007-2013), Co-Founder and Board Secretary, Bellwether League Foundation
_____
"Tom Hughes saw something in me I didn't even see in myself. He recruited me from behind a hospital supply chain desk 30 years ago. He mentored me and molded me into the consultant I am today. Two things Tom taught me: Your goal is to delight every client because you are only as good as your reputation. And the best teaching moment? Following a proposal and presentation to a prospective client Tom committed that we 'absolutely could do that.' Back in the car I turned to Tom and asked, 'do we do that?' His response was, 'we do now.' God love Tom."
Dee Donatelli, R.N.
Bellwether Class of 2015
Bellwether League Inc. Board Member (2018-2020)
Vice President, Professional Services, TractManager, a symplr company
_____
"The industry has lost a legend. Tom Hughes was truly instrumental in transforming healthcare purchasing to the broad healthcare supply chain system in place today. I've known and admired Tom for roughly 30 years – first having hired him for a number of engagements for Premier, then Consorta; working with him and AHRMM on a Future of Materials Management study; and most recently as the first hire for Strategic Marketplace Initiative (SMI), working with him for 11+ years to create and build the first of its kind organization. With his strategic vision and a handful of dedicated and talented staff, SMI became the industry leader in coordinating collaborative relationships within the healthcare supply chain, working together to improve operational efficiencies and reduce overall costs. Tom was a visionary with tremendous business acumen, but his priority was always his family, of whom he was very proud. Anyone close to him knows his beloved wife Joey, and has heard a lot of boasting about his daughters Samantha and Jessica and their families. He was always tremendously supportive of his staff and colleagues and was a very generous man. I will miss him.
Teri Gallagher
Former Administrative Director, Strategic Marketplace Initiative