Media
Previous Press Releases
Gil Minor III, pioneer, titan of distribution during Silver, Modern Ages, remembered by Hall of Fame for Healthcare Supply Chain Leadership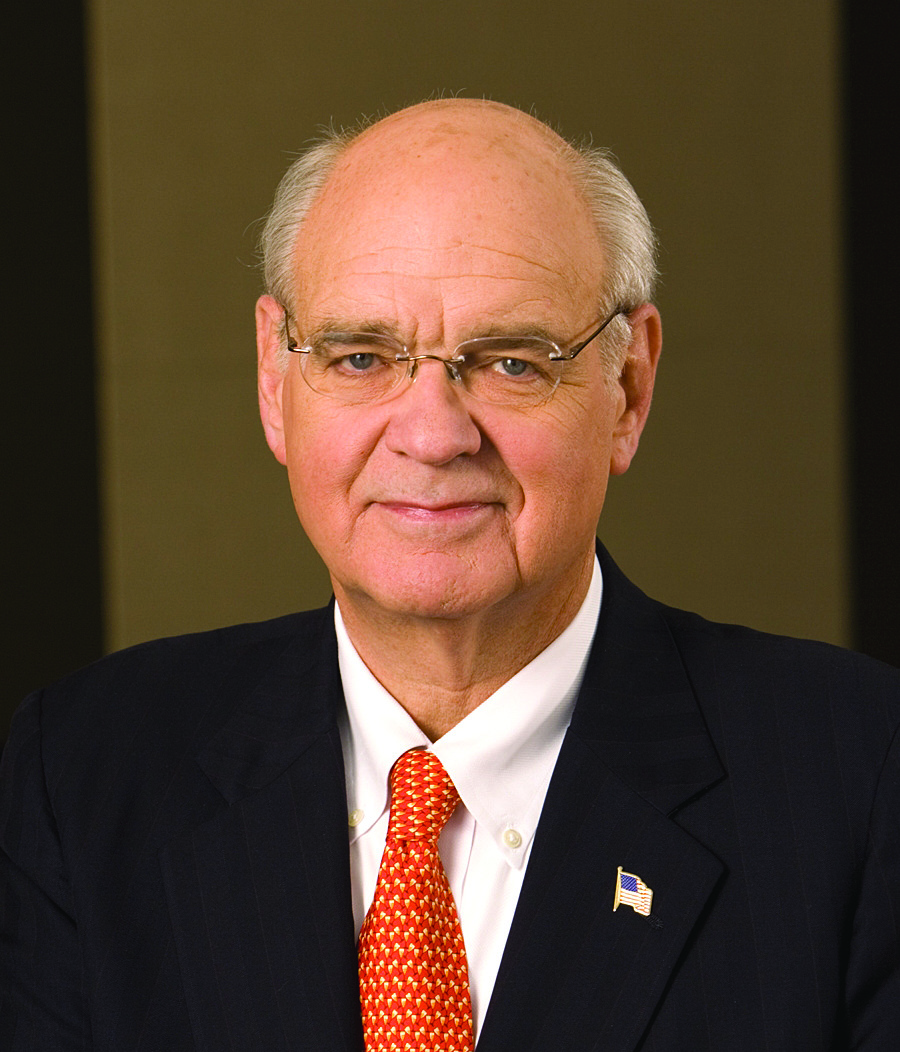 SCHAUMBURG, IL (May 12, 2023) — As a boy, young Gil Minor III liked to ride the conveyor belt in the Owens & Minor warehouse from the third floor down to the first. Rather than scold him, Gil's father appreciated his son's adventurous spirit and used the experience as a teaching moment. He shared with him early on that the conveyor system always moved the boxes forward — never backward — because that was the key to success in distribution.
Gil III always remembered that lesson and made it one of his mantras to further develop and grow the company he would lead and influence into the third millennium.
On Thursday, May 4, G. Gilmer Minor III, hopped off that conveyor belt for the final time. Bellwether League Foundation learned that Minor, 82, passed away peacefully at his home surrounded by his family.
BLF inducted Gil Minor III into the Hall of Fame for Healthcare Supply Chain Leadership as an honoree in the Bellwether Class of 2010.
For Jamie Kowalski, Bellwether Class of 2017, BLF Co-Founder and Chairman of the Board, Gil III's contributions to the industry and professionalism burrow deep.
"Words cannot adequately describe the man he was," Kowalski, Bellwether Class of 2017, remembered. "All we can do is try. This is what I saw in him: Gentleman, friendly, caring, businessman, customer first, sincere, smart, happy when you succeed, team, leader, when one succeeds we all do, win-win is best, understanding, listens, competitor. Rest in peace Gil Minor III."
Kowalski served as Vice President, Operations, Owens & Minor, 2007-2011.
"Gil was a true industry icon, an inspirational leader and an incredible human being," said Mark Van Sumeren, Bellwether Class of 2021, Administrator, BLF's Bellwether Philanthropy Division, and who worked with Gil III at Owens & Minor for more than 11 years, 2003-2014. "The opportunity to learn from him and observe up close his unwavering commitment to the Owens & Minor teammates and customers was an experience that I will treasure forever." Currently, Van Sumeren serves as Managing Director, Health Industry Advisor LLC, which published an information-rich and insightful newsletter during the pandemic called "COVID-19 Report."
Van Sumeren's Bellwether classmate Gary Rakes, retired Vice President and Chief Supply Chain Officer, Aspirus Inc., echoed the sentiments.

"Gil was a true pioneer in the medical distribution business who served his customers with a passionate heart and always put patients first and at the center of their core business," Rakes, Bellwether Class of 2021, said. "I remember his zeal for serving the military healthcare system and his focus on ensuring that our soldiers, sailors, airmen and marines had the supplies they needed to provide outstanding patient care. He will be truly missed by all in the healthcare supply chain profession!" Rakes was a career Naval medical service core officer, specializing in healthcare supply chain, before retiring and entering the private sector. He currently serves on BLF's Advisory Council.
John Gaida, Bellwether Class of 2018, and former BLF Board Chairman (2014-2016), expressed his sorrow to hear of Gil III's passing.
"He was a great man and also a dear friend of mine," Gaida said. "While we spoke less and less over the last five years or so, we did communicate after each of us left our final roles at our respective healthcare organizations." Gaida retired as Senior Vice President, Supply Chain Management, Texas Health Resources, in 2017.
Gaida recalled a favorite memory of Gil III from 30 years ago when Owens & Minor was bidding on the distribution contract at the healthcare system where Gaida served as Vice President of Supply Chain.
"The incumbent organization and O&M were asked to bring their respective CEOs to give a presentation to our organization, which included our physician-led system CEO," Gaida said. "The CEO of the incumbent distribution company started by giving a list of reasons why we should not choose the competitor organization (O&M) — basically bashing them! He must have gone on for 20 minutes, ranting and raving. 
"Then Gil Minor spoke," Gaida continued. "Gil's presentation lasted 3-5 minutes and was very succinct, but true to form Gil Minor! He folded his hands on the table, looked straight at our CEO and said in his humble way, 'I am not the smartest guy around, but I have a first-class group of teammates who will work every day to deliver the best distribution they possibly can for you. I give you my word, we will always do what we promise!' After the two organizations left, my CEO pulled me aside and said, 'Let's make sure we choose Owens & Minor! I really liked Mr. Minor and trust he will be the best partner for us. Get that other guy out of here as fast as you can!' All I could do was smile!"
Carl Meyer, Bellwether Class of 2019, and current BLF Advisory Council member, attested to Gil III's stellar reputation.
"While Owens & Minor was a competitor of General Medical, Gil always led with class, honesty, integrity and his southern charm," Meyer remembered. "No one in the industry had the level of personal relationships that Gil had with OMI's largest accounts. The medical/surgical distribution industry is unique in how competitors get along, and Gil played a major role in creating that environment. He will be missed by all he touched. May he rest in peace."
At the time, Meyer had worked for competitor General Medical Corp. (GM), which later would be acquired by McKesson Corp. Currently, Meyer — serves as Executive Vice President, The Wetrich Group.
"When I was the district manager — running sales and operations with full P&L responsibility — for GM in Tampa, we won the central and southwest Florida sole-source med/surg distribution agreement with SunHealth [Alliance], which is now part of Premier," Meyer continued. "We scheduled a meeting with [executives at] Florida Hospital and showed up excitedly for our first meeting. We were told quite frankly that 'GM was no Owens & Minor and that regardless of the vote and sole-source award that Florida Hospital would not switch to GM.' Owens & Minor at Gil's guidance had solid relationships at every level. Gil personally met with the CEO and CFO and the regional leadership with their Florida Hospital counterparts. This went down through the organization all the way to the delivery driver and the staff on the receiving docks.
"Gil built an amazing culture and esprit de corps at OMI," Meyer added. "Everyone was treated as a teammate. When you competed against Owens & Minor, which I did frequently as a [district manager] and later as a director and then vice president of National Accounts at GM and then McKesson, you knew that they would be creative and competitive in their bid. You also knew that they would be above board in every manner, which was not always the case in the early-to-mid-90s before the significant consolidations of med/surg distributors took place."
During the 1990s, dominated by the Clinton Administration's healthcare reform initiative and a parallel, if not resulting, merger-mania wave among manufacturers, distributors and group purchasing organizations (GPOs), Owens & Minor was an influential player in the corporate sweepstakes. Under Gil's leadership, O&M rescued the smaller regional Stuart Medical, popular among the provider circuit, when other larger fellow competitors peeked under the hood and passed.
Minor spent his entire career with Owens & Minor Inc., joining the company right out of college in 1963, learning the business under the guidance of his father, Gil Jr., in a variety of escalating sales, operations and management roles before becoming President in 1981 and CEO in 1984. Minor was elected Chairman of the Board in 1994 and retired as Chairman and CEO in 2005. He remained on the Board of Directors as non-executive Chairman until 2013 when he became Chairman Emeritus.
Under Gil III's leadership, Owens & Minor grew from a small regional healthcare product distributor to a leading Fortune 300 national healthcare product distribution corporation. In fact, when he joined the company in 1963, annual revenue approached $12 million; when he assumed leadership, annual revenue neared $300 million; when he formally and officially retired in 2005, annual revenue topped $4.5 billion.
Gil III always stressed that a company should reinvent itself every three to five years.
Back in 2010, during his Hall of Fame induction year, Gil III shared with BLF his thoughts about his own legacy.
On how he would like to be remembered by the industry: "Building on and maintaining O&M's reputation for teamwork, honesty, integrity and trust. Building bridges between healthcare supply chain partners and providing the value of the distributor every day."
On the one industry challenge he would like to see solved in his lifetime: "Establishing trust between supply chain partners. It must be earned. But each partner has to recognize that the others have their own objectives and priorities. The common denominator is that each one has to be efficient and either save something or make a profit, and there is nothing wrong with that. Working together to achieve those goals is the best model."
On the importance of effective and innovative supply chain management during tough economic times: "Supply chain will be an engine; it will support care provided and drive the bottom line."
Minor earned a Bachelor of Arts degree in History from Virginia Military Institute in 1963 and received his MBA from the University of Virginia's Colgate Darden School of Business Administration three years later while working with at Owens & Minor.
Minor was an active volunteer, member and/or leader of numerous civic, economic, educational, and humanitarian organizations, including the Virginia State Council of Higher Education (SCHEV), the Virginia Business Higher Education Council (VBHEC), and the Commission on Higher Education Reform, Innovation, and Investment as well as with the VMI Board of Visitors and the VMI Foundation.
Minor also earned a plethora of awards throughout his long and storied career. They include the following:
The Flame Bearer of Education Award from the United Negro College Fund in 1998
Virginia Industrialist of the Year in 2001
Induction into the Greater Richmond Business Hall of Fame in 2003
The Ernst & Young Entrepreneur of the Year Lifetime Achievement Award and the B'nai B'rith National Healthcare Award in 2004
The VMI Foundation's highest honor, the Distinguished Service Award in 2008, for his contributions to VMI
Thurgood Marshall College Fund Award of Excellence in 2009
Induction into Bellwether League Foundation's Hall of Fame for Healthcare Supply Chain Leadership in 2010.
Induction into the VMI Athletic Hall of Fame in football and baseball in 2011.
After retiring, Minor founded Minor and Major LLC, a coaching and mentoring firm. Minor is survived by his wife Charlotte Major Minor; daughter, Cameron Minor Cummings (Jack); son G. Gilmer Minor IV; three grandchildren, Christopher Watkins Raquet, Adeline Margaret Raquet and Bryson Robert Raquet; his brother, Claiborne Watkins Minor; and his beloved Westie, Dubby.
A funeral service will be held at 10:30 a.m. Thursday, May 11, at St. James's Episcopal Church, 1205 W. Franklin St. A reception will follow the service at The Country Club of Virginia — Westhampton. Burial in Hollywood Cemetery will be private.
For those who would like to make a contribution in his memory, the Minor family asks to consider the V.M.I. Foundation, Moody Hall, 304 Letcher Ave., P.O. Box 932, Lexington, VA, 24450 or the New E3 School, 2901 Granby St., Norfolk, VA, 23504.
The Richmond (VA) Post-Dispatch published an extended profile of Gil III as part of his obituary, on May 5. Access it here at https://richmond.com/business/local/g-gilmer-minor-iii-82-leader-of-fortune-500-firm-owens-minor-dies/article_bc0d42b2-eb5c-11ed-8108-5757087d4338.html.
About Bellwether League Foundation
Bellwether League Foundation comprises two operating divisions that educate, endow and evaluate professionals in healthcare supply chain performance excellence: The Hall of Fame for Healthcare Supply Chain Leadership and Bellwether Philanthropy.
The Hall of Fame for Healthcare Supply Chain Leadership evaluates and validates professionals submitted for consideration in its three award programs: Bellwether Honorees, Future Famers and Ammer Honorees. The Hall of Fame also offers educational and professional development content via the Healthcare Supply Chain Leadership Forum and its "Leaders & Luminaries" multimedia of online and printed content.
The Board selects deceased, retired and currently active professionals with a minimum of 25 years of exemplary service and leadership performance in supply chain operations that meet its criteria to be recognized publicly as Bellwether Class Honorees.
Future Famers represent supply chain professionals early in their healthcare careers who do not yet qualify for Bellwether consideration but have contributed meaningfully to the profession and industry.
Honorees who receive the "Dean S. Ammer Award for Healthcare Supply Chain Performance Excellence" represent noteworthy executives and professionals in the middle of their careers who, through their innovative leadership and influential project management experience, best exemplify the practice and spirit of healthcare supply chain performance excellence.
To date, The Hall of Fame for Healthcare Supply Chain Leadership has honored 137 innovators, leaders and pioneers in healthcare supply chain management in five distinct categories: Education & Media, Supply Chain Management (Provider), Group Purchasing, Supplier and Consulting Services. Bellwether League Foundation also has recognized 37 Future Famers, and two Ammer Honorees.
Bellwether Philanthropy offers grants, scholarships and capstone educational and developmental projects to college-bound high school students who plan to study supply chain curricula, current collegiate students who major in supply chain-related careers and professionals who pursue continuing education through associations and universities.
Launched in late July 2007 by a group of influential veterans in the healthcare supply chain industry, Bellwether League Foundation began as a 501(c)(6) not-for-profit corporation that upgraded to a 501(c)(3) nonprofit organization in January 2021.
Bellwether League Foundation currently is funded by six Founding and Platinum Sustaining Sponsors — GHX, HealthTrust, Owens & Minor, Premier, Vizient and Wingfoot Media — and a host of additional sustaining sponsors at multiple levels. For more information, visit Bellwether League Foundation's website at www.bellwetherleague.org.
---